Having the know-how about any industry and the ins and outs of it is undoubtedly an invaluable asset to have. However, in the case of logistics, the knowledge might not be enough to make sure that a supply chain runs smoothly without any cracks in the links, as one of the most valuable assets when carrying goods on the road are trucks and the drivers behind the wheel. While spedition companies provide sufficient services to make sure goods continue moving, they have their disadvantages when compared to a traditional road freight transport provider.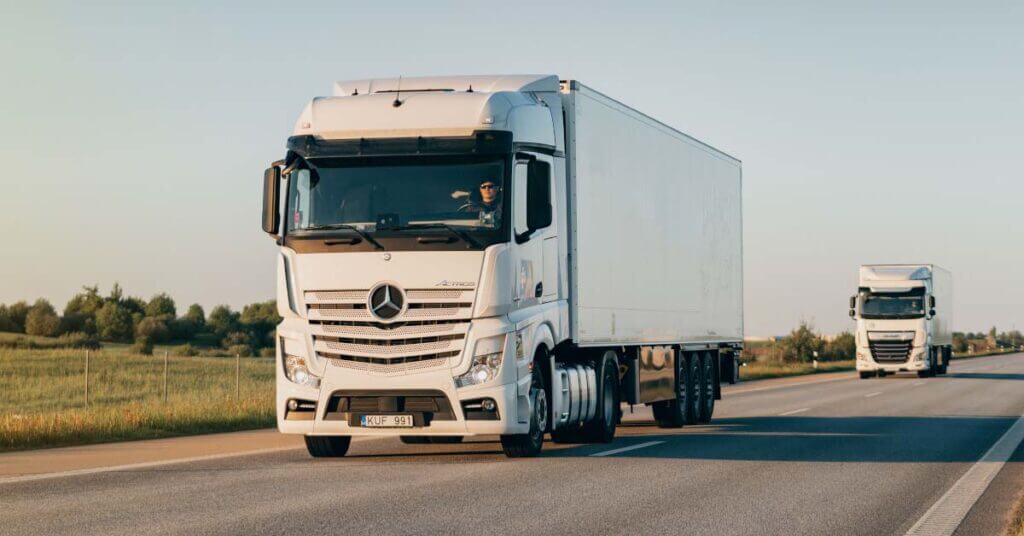 Is there an alternative way to conduct a business from a shipper's point of view, especially those who already have figured out how to successfully run their supply chains, want to avoid the headache of acquiring assets, maintaining them, and finding personnel to operate them?
A DIFFICULT SITUATION TO NAVIGATE
The past couple of years has proved difficult for everybody, especially as supply chains across the globe not only had to sustain lingering threats from COVID-19, bringing a fair share of uncertainty with it but also had to adapt to a new situation that had changed constantly. The shakiness has brought headaches to shippers, carriers, and the consumers that have bought items throughout recent years.
In terms of the road freight transport industry itself, service providers had to navigate a maze full of obstacles of varying difficulty, as the pandemic laminated a new business environment throughout Europe. One of the most glaring difficulties was the fact that operating expenses continued to rise. Fuel was just one side of the equation, and despite the fact that sudden spikes in fossil fuel prices have been exhibited throughout history, the situation nowadays is extraordinary. The ever-fragile driver situation in Europe became even more fragile, as the very temporary dip in transportation activities in March and April 2020 compounded the shortage of drivers in the continent. The driver shortage resulted in logistics providers looking for ways to ensure that drivers remained behind the wheels of their company's trucks, and one of those ways was to rise the driver compensation to at least retain the number of employees.
The pricing environment in road freight transport remained volatile ever since the sector began attempting to stand on its feet in May 2020. "We can therefore expect a period of sustained inflation of freight rates over the medium term," commented on the future of the road freight transport industry a road transportation expert for Upply, William Beguerie, in his assessment of 2021.
DARKER CLOUDS BEFORE A GLIMPSE OF SUNSHINE
According to Begeurie, the biggest issue of logistics within Europe was that demand for road transport services was larger than operators could satisfy, making the prices for transportation services inflated. In fact, according to the latest data from Eurostat, Harmonised Indices of Consumer Prices (HICP) in transport have continued to rise steadily throughout the year in the EU,  with November 2021 prices reaching an index of 115.46, with the benchmark being HCIP seen in 2015.
With so much uncertainty surrounding the road freight transport industry, one would assume that as a shipper, it would make sense to reel in the transport side of the supply chain and, as an experienced professional in the field, to control the processes yourself. However, in reality, moving towards an asset-based model would have hardly worked in the economic environment seen for the majority of the last two years.
Another problem as to why carriers struggled to supply enough capacity to satisfy the demand was that manufacturers had difficulties providing enough vehicles to transport companies. Semiconductor chips, despite their spotlight, were not the only material that was in short supply. Links to deliver crucial resources broke down continuously, once again throwing it back to the supply and demand equation affecting shippers and carriers globally. Even if manufacturers got their hands on crucial materials, they came at a premium and more often than not, delayed. Thus, establishing independent supply chain transportation processes became a monumental task, which was never easy to begin with, even with vast knowledge on how to oversee that one's cargo reaches the unloading site in one piece and on time.
THE SILENT PARTNER
Still, if partnering with a traditional logistics provider was an option that was trialed and did not satisfy the shipper's demands, there is still a third option to explore to ensure that goods do not leave the stores' shelves even if consumers are continuing to buy them — partnering with a supplier of dedicated trucks, trailers, and drivers.
Girteka Fleet is just one example of such service providers, as the independent company within the Girteka Group, provides tailored services to its customers that know how to run their supply chains independently, yet they lack the necessary assets to do so. There are two ways to partner with Girteka Fleet: to utilize the provider's truck and driver, or a truck, a driver, and a trailer (either tautliner or a refrigerated).
"We call ourselves the silent partner in logistics, as we might be as not widely recognized as the other companies in Girteka Group, or other road transport providers throughout Europe," said Sigitas Meilūnas, Chief Operations Officer at Girteka Fleet. "Despite the fact that we might be not the most well-known brand out there, our services speak for ourselves — we allow our customers to thrive in organizing road freight transport while we make sure that everything that is in the background is up and running smoothly and without any issues," he continued.
The biggest advantage of such a business model is the fact that while road transportation might look simple on the surface, once one begins to scratch deeper, the complexity of ensuring a smooth run between a loading and an unloading site reveals itself. That complexity has only deepened over the past few years, especially now, when a shortage of both trucks and drivers can negatively impact shippers globally.
"We have done our best to adapt to the various shortages and so far so, we have seen limited impact towards the reliability of our services. It was not an easy feat to achieve, yet we have managed to do so," commented Meilūnas. "Being a super heavy asset-based business means that we go play off each other's strengths with our asset-light customers, enabling each other to focus on their area of expertise without disrupting the other party," he added.
Even if a company wishes to apply its own branding to the newly-leased trucks, Girteka Fleet provides that option and allows its customer to be seen by their own end consumers, allowing the company's clients to remain aware of the brand, while behind the so-called curtain of branding, the silent partner in logistics does its job to ensure a smooth supply chain.
"We take care of the acquisition of trucks, trailers, and the hiring of drivers, as well as the planning of routes and lanes and the maintenance of the vehicles — basically of all the operational things that a customer requires, while we leave our customers to handle what they do best — to plan out commercial activities," concluded Meilūnas.