We can drive your lanes all across Europe & UK
Working in tandem for the best trucking experience!
At TNDM Trucking, we look to provide a tailored round trip road transportation solution for clients. Accelerate the growth of your core business with a stable capacity of modern trucks and trailers that bring the best trucking experience provided by a seasoned and dedicated carrier – TNDM Trucking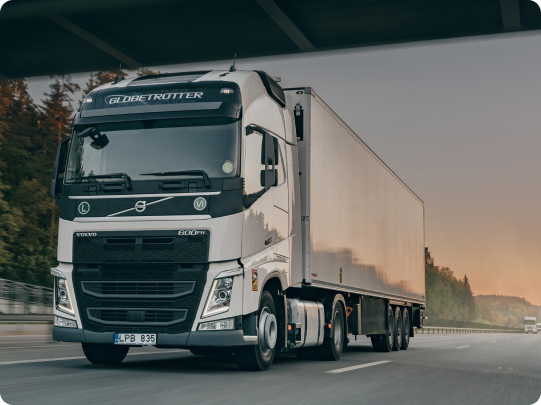 Whether you need an independent fleet owner to run your roundtrip deliveries for you or you are seeking capacity that you would be providing to your own customers, TNDM Trucking's asset-based fleet provides:

from being a part of the Girteka Group, which ensures that no matter what, your cargo and your operations will continue running as intended. We will also be able to offer truck capacity according to your growth needs, as TNDM Trucking is dedicated to helping you on your mission of growth.
with trucks and trailers that are continuously refreshed for TNDM Trucking to provide transportation services with the latest technology-equipped trucks, including the lowest emission EURO 6 standard diesel engines that are currently on the market

with a single point of contact for your FTL deliveries, as a transport partner, we provide as much clarity as we can when there are any issues, as your dedicated transport manager directly communicates with you and the driver assigned to your delivery, ensuring that the both parties are fully aware of the situation at hand.

MEETING SUSTAINABILITY GOALS
being part of the Girteka Group also means that we adhere to the Group's sustainability standards, including the safety and the working conditions of our colleagues, as well as reducing the carbon footprint of your supply chain operations, even if you hired us as your private fleet replacement.